Companies are bracing for more steep increases in shipping and logistics prices in 2022 after supply-chain costs soared in the scrambled to move goods during the Covid-19 pandemic. Thus, transportation and logistics providers seek significant boosts in fees for contracts for the coming year, signaling that the inflationary pressure driven by solid demand and tight capacity in freight markets is likely to persist.
Industry experts are expected to forecast the transport operation leverage to raise their prices having the new negotiation contracts. Also, Ocean – shipping executives say they expect the rates in annual contracts would be doubled compared with agreements struck earlier this year from the bloom of supply chain bottlenecks squeezed its capacity. In addition, prices have been rising across the freight sector, including parcel delivery, trucking, ocean shipping, and warehousing, and these raised fees would worsen.
Considering these facts, prices to ship sea containers are likely to reach records under annual contracts. Moreover, in trucking, the outlook for higher rates next year follows a sharp runup in the contract prices that businesses negotiate with trucking companies and freight brokers. Not only the costs of leasing industrial properties have humped 25% on average, but logistic operators also provide outsourced distribution and fulfillment services are also passing higher labor costs on to their customers as a competitor for warehouse workers boosts wages.
Rising Rates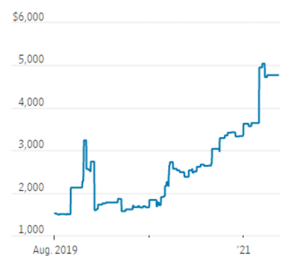 Reference: https://www.wsj.com/articles/shipping-and-logistics-costs-are-expected-to-keep-rising-in-2022-11639918804?page=1